The RFID key cards are rapidly replacing the regular keys. It is a way to improve the guests' experience during the period of their stay.
Reliable room access with an RFID hotel key card
There are few basic ways to configure an RFID card and it depends on what kind of RFID lock that is being used. Recently, the "tap and go" is the most used type where you tap the room lock using your RFID key card to unlock the hotel door. RFID card lock is one of digital locks which has adopted the radio frequency card as the key. With this RFID technology, the radio frequency card can just "tap and go" to access the room. These RFID key card locks offer easier and better access control than key locks or traditional locks. Data on the RFID key cards is safe because it needs special device to read it which maintains the electronic lock system security.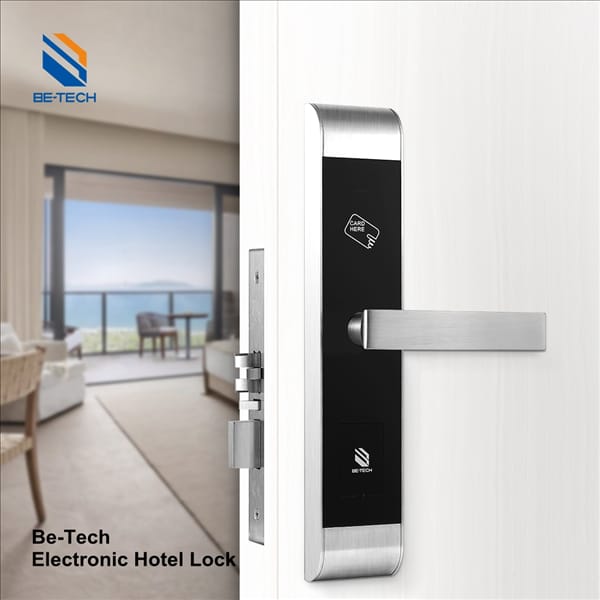 The hotel will continue to experience an ever increase in its costumer because come to look at it, everybody loves new technology. The RFID card increases guest experience thereby enable the hotel to continue to introduce new technology to further boost the positive feedback. The RFID Card can be used as a payment card. This fosters a great hotel experience for all guests by associating all the guests' needs with just in a single card. The RFID key cards is a good asset for hotels it gives a wide range of new opportunities to give the guests a better and exciting experience throughout their stay.
BE-TECH is a great choice in managing all your hotel security. Be-tech is considered as the best in the industry by launching new innovative discoveries in the security sector, researches and developments. Be-tech has been in the industry since 1992, since then, they have enjoyed a lot of patronage from satisfied clients and a continuous stream of referrals because they are the best at what they do. Be-tech is aimed at providing electronic security for homes, hotels, schools and any kind of building.
We are proud to inform you that the Be-Tech  will be offering the newly launched security technology which is the visual II RFID. This series is the newest electronic lock that is easy to use, stylish and simple design. The Be-Tech Visual  II RFID (V7A3M) series is particularly designed modern hotels that value sophistication and class.  The features of this  Be-Tech Visual II RFID (V7A3M) series includes;
•    Stand-alone electronic lock fitted with RFID technology
•    Mortise sanctioned by the CE and ANSI/BHMA
•    Stainless steel handle
•    Stainless steel mortise lock case
•    Panic release function- in case of emergency, the deadbolt and latch are retracted automatically
•    ADA compliant for guest with physical disabilities.
•    Fitted with a bishotel software platform
•    Compatible with a hotel and residential function.
•    400 event audit trail.
•    3-point stainless steel retractable latch.
•    Mortise equipped with a 20mm throw high strength detachable deadbolt.