Solution for Rental Condominiums
Applying
Be-Tech
rental condominiums security solution can provide convenience and safety for the rental condominiums management with the lowest management cost and help to reduce staff workload. The rental condominiums security solution include fingerprint lock, cabinet lock, elevator access, smart safe and energy control unit and other gated equipment. Rental condominiums security solution can access by one RFID card both convenient to authorize and prevent conflicts, and meet the "fast" and "security" of rental condominiums management needs. "Perfect flexibility" and "standardization" will be the perfect combination of the rental condominiums security system which will provide more possibilities for the intelligent management of rental condominium .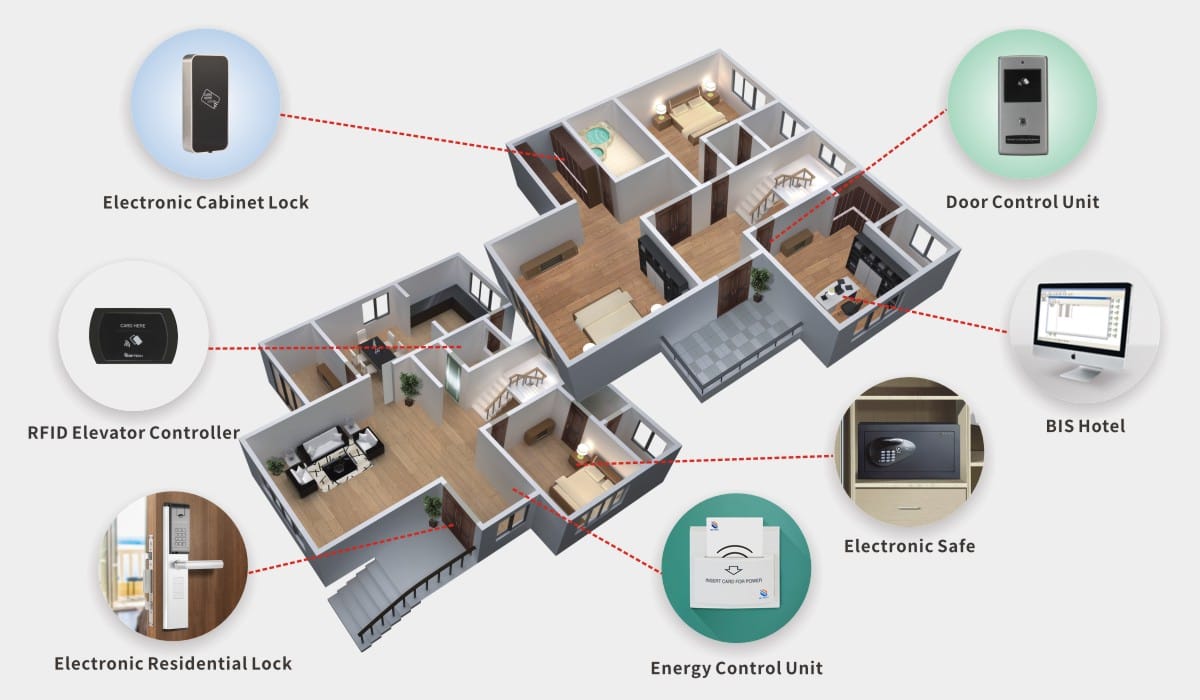 We aim to provide modern electronic security technology to the rental condominiums market. Each product is designed to meet our customer's need for security and convenience. By focusing on international market trends, and modern productive facilities, Be-Tech has been able to continuously develop solution to meet unique demands of any rental condominium .
Need Help For Hotel lock System Design?
Our advisors are available to help with product requirements and answer any questions, please give us a call at +86-757-28376123 to discuss your project.
Rental Condominiums Solutions
When you own and rent a vacation home, condo, or cabin in the mountains (or the beach!), you know how difficult it can be to distribute and manage keys. Nothing else slows you and your guests down more than keeping up with and collecting keys. A safer, more effective, and profit-preserving approach exists with our keyless locks. Keyless entry saves you time and money, and provides your guests an amenity that will make them want to return again and again. It is frustrating for guests after traveling a long distance only to have to drive out of the way to a rental management office to pick up keys.
Be-tech Locks give you or your management company the ability to simply email or phone your guests a code for entry into your rental, and then quickly change the code once they depart, or have the code automatically expire at departure.
Total security and control is maintained through a master code with all of the locks. And since our keyless locks allow for multiple user codes, you can assign the cleaning company or maid with their own unique pass-code.
For those who live great distances from their rental, or if  management company who wants a more efficient means of controlling access, our SmartCode with Home Connect Wireless Deadbolt Locks, and Be-Tech internet-enabled keyless lock are WORTH the investment.
For a one time cost plus an amazingly affordable monthly fee, you can quickly assign your guests access codes from an internet-connected PC and now Smart Phone when you own the SmartCode with Home Connect.
A growing number of smart locks include integration with popular rental booking websites. This integration allows for seamless management and access to a vacation rental.
If a door is left closed and unlocked for a certain period of time, the smart lock will automatically lock itself and potentially alert the property owner to that fact. Be-tech which smart door lock to install in a rental property will depend upon the property owner's unique needs and situation.
This means when a tenant moves out all you have to do is easily reset the lock by inserting the key, and the learning tool. This allows you to effectively "wipe" the memory of the lock. Inserting a new key will then "teach" the lock.