It's essential to keep a few things in mind when selecting the hotel door locks. Safety always comes first when we talk about hotel door locks. With a conventional door lock, the security will be compromised if in case its key is lost. Also, the replacement of a traditional lock is costly and time-consuming. But nothing to worry about as an electronic door lock can be the right solution for you if you are looking for a cost effective, yet secure door lock. Electronic door locks are commonly used in hotels because of their numerous benefits. These locks can be accessed with an RFID card, so you don't need to worry about a lost key.
Nowadays, different types of electronic/digital door locks are available in the market. Each of these lock types has certain pros and cons. So, choosing the best among them can be difficult and time-consuming. But to help you out, we have decided to share with you the best electronic hotel lock, which is none other than Be-Tech Visual III RFID series.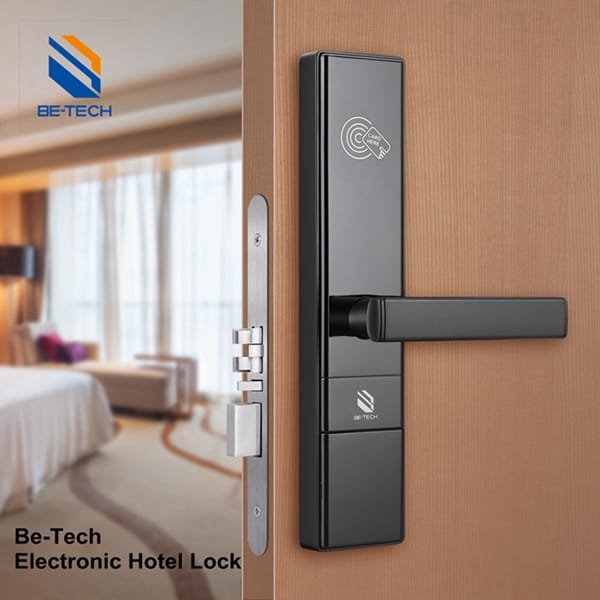 RFID (Radio-Frequency Identification) means access through electromagnetic waves. A contactless transmitter-receiver system recognizes people and objects via radio waves. This system has been incorporated in electronic door locks. A specific chip is programmed and transformed into a small-size transponder, which is located on the door. Access through the door is carried out by the transfer of data through radiofrequency. Here the code card is capable of reprogramming for every guest. This type of lock is suitable for people having physical disabilities. Plus, this lock has low hack vulnerability. The price of an RFID door lock is higher as compared to ordinary locks.
Visual III RFID series by Be-Tech is the latest digital hotel door locks that have a comfy and fashionable design. It is specially designed for chic and up-to-date hotels that prefer having stylish door locks. Be-Tech Visual III RFID series has a matte black finish, high-security stainless steel mortise lock case, handle, and print latch construction. This door lock is compatible with the BIS Hotel Software Platform.
Visual III RFID is an up-to-date electronic hotel lock with simple, comfy, and fashionable design. It is specially made for the fashionable and modern hotels that want all things of their hotel look stylish, including the hotel door lock. This Visual III RFID lock has a sparkling spot that looks eye-catching and unique. It's features are designed in a manner that it can enhance the experience of users. Let's have a look at its key features.
Comes with the latest RFID technology.
Stainless steel mortise lockcase is available in different versions i.e. EURO, ANSI, and AUS.
Stainless steel 3-point latch construction along with antifriction system.
Mortise is equipped with 20mm high-power deadbolt.
Panic release function is also available. The latch and deadbolt are retracted automatically by interior handle for hassle-free regress in case of an emergency.
It's FLASH RAM lock memory is re-programmable.
Complies with ADA.
Comes with four 1.5V AA batteries with up to one year life time.
Electromechanical locking system.
Certified with ISO 14443 A (MIFARE Classic).