Do you need to have a security experience you will never regret about? Well, this pin code door lock from Be-Tech will be your best choice. It will work perfectly on family entrance door together with other entrance areas you might need to use it on.
Additionally, being of a Champagne Gold color, you will be sure to have a door lockcase that matches different home decors easily. The color choice of this door lock is optimal as it will suit any décor you have chosen for your home. As a result, you should never worry of the décor match in your home, with this door lock all your worries will be fully sorted.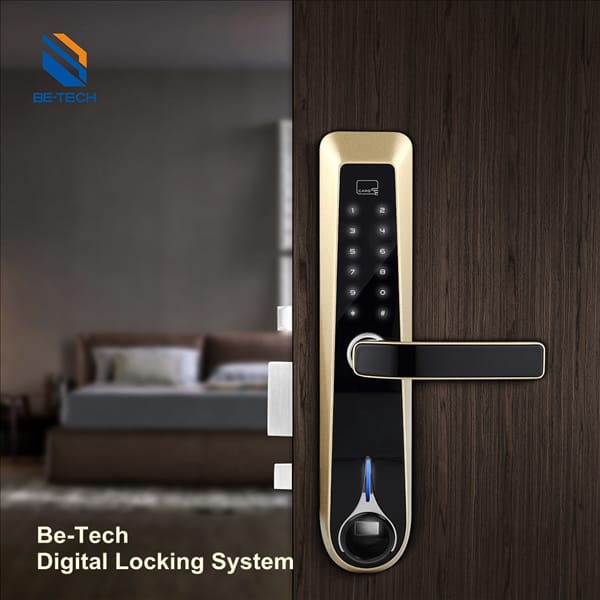 Why Should You Go for the I8A1FMT Digital Door Lock?
With its effectiveness and convenience, you have every reason of having this Pin Code door lock in you family entrance door. Its advantages are incredible and they will, with no doubt, amaze and give you a brand new perfect security experience. Below are some of the main reasons you should go for this I8A1FMT digital door lock;
Several Access – One of the best things that makes this PIN code door lock to be unique in its own way together with making it one of the best is through its several access solutions it gives you. This digital door lock can be accessed by use of an RF Card Key, Fingerprint, as well as PIN Code. You will just have to use any option you consider for your convenience.
Features a Scramble Code – Being a PIN Code Door Lock, this door lock ensures protection of your PIN code through which you can enter any random numbers before the right code whenever there is a possibility of exposing this code to others.
Automatic Locking feature – This PIN Code door lock will always ensure your door is always locked. However, you can as well opt for the manual operation. The automatic option will automatically lock the door a few seconds after the door is opened.
Comes with an Alarm system – The I8A1FMT PIN Code door lock will alert you in case someone tries to access your door with several unsuccessful trials. This will be activated on any access option used with 5 unsuccessful trials. Following the unsuccessful trials, the alarm will be on and it will last for 60 seconds to notify you.
Invisible Keypad – This PIN Code Door Lock comes with an invisible keypad which is an additional security feature where you opt to use PIN code as a solution on access. The keypad numbers will only be seen whenever you touch the screen using your palm
Product Specs
Below are some of the major specs featured in this PIN Code Door Lock;
It features a front body that measures 77mm (W) by 354mm (H) by 83mm (D) with a door handle while the back body measures 77mm (W) by 354mm (H) by 86mm (D) which also contains a door handle.
The door thickness applicable to this PIN Code Door Lock ranges from 40mm to 80mm
This door lock can hold up to 41 RF Card Keys with 1 master key while the rest 40 user keys.
The user codes that can be used in this PIN Code door lock go on up to 21 groups ranging from 6 to 12 digits
This door lock contains fingerprint groups of up to 91 groups hence giving access to many users.