Security threat is the real issue these days. You cannot avoid the fact that people these days are worried about their security. And for that purpose, people are looking for the pin code door lock to maximize the security of the house. And in that case, you must look for a door lock that is not only perfect for the house but provides foolproof security. But where to find a door lock that is so robust and potent to provide foolproof security? Well, not to worry because we have put together some information regarding the RFID pin code door lock model G8A3MT by Be-Tech.
This pin code door lock is not only perfect for home use but comes with various features that make it usable in many different spaces. For a family space, this door lock works perfectly with its digital lock system. There is a touchpad available that you can use to enter the pin code. It is available in silver color with robust construction and absolutely stunning features. The RF card also works on this door lock. There are some incredible features of this door lock that you must consider.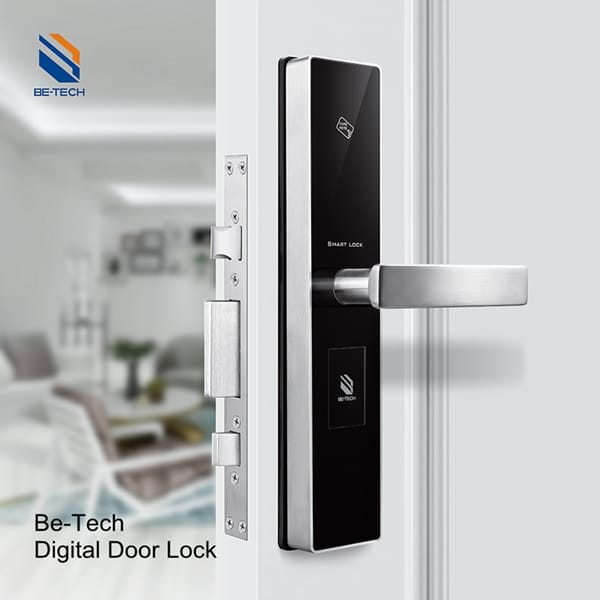 Features
This door lock comes with a touchpad that has the keypad for you to enter the Pincode. This door lock also offers various accesses, and the access solution includes two different options. You can access the door using the pin code, or you can also use the RF card. Initially, for the quick and instant setup, it comes with a fake Pincode that you can change later. This door lock also offers multiple access for the door. Also, it can be locked automatically in a few seconds. So even if you forget to lock the door of your house, it will be automatically locked in just a few seconds. There is an LED indicator also available for better information and alert regarding the door lock. Also, you can open the door easily from the inside in case of emergency.
This Pin Code Door Lock comes with an alarm system that will alert your house if the pin code is entered wrong three times in a row. Also, it will alert the house if the RF card is incorrect. There is a warning signal for the low battery as well. And it will alert your house if the pin code is entered wrong three times in a row. And to remind you to replace the battery, there is a beep sound that you will hear continuously. There is a mechanical key also available for emergency use. In case you are unable to enter the house entrance with the pin code for the RF card; you can use the mechanical key that comes with this pin code door lock.
Where to get this door lock?
You can get this pin code door lock from Be-Tech. Click here to find out the model G8A3MT of this door lock that is the most robust option available. Make sure you do not miss out on this high-quality lock.