Security is not just a concern for household properties, but it is important for hotels too. A traditional hotel door lock is not enough to keep the room safe, therefore, modern-day electrical, biometric, and RFID door locks have been in use. These are so popular that it has become essential for every hotel these days. Replacing the traditional hotel door locks is an expensive deal but it can be really good from a business point of view. At the end of the day, you would want your visitors to stay safe in your hotel.
Be-Tech is a company in China that manufactures security locks of various kinds. They manufacture electrical, digital locks. Not only they have advanced mechanical and software upgrades, but they have cool and chic designs that look lovely for any hotel. They manufacture locks that are easy to use for all people.
Here we are going to have a close look at one of their hotel door lock. Let's dive in.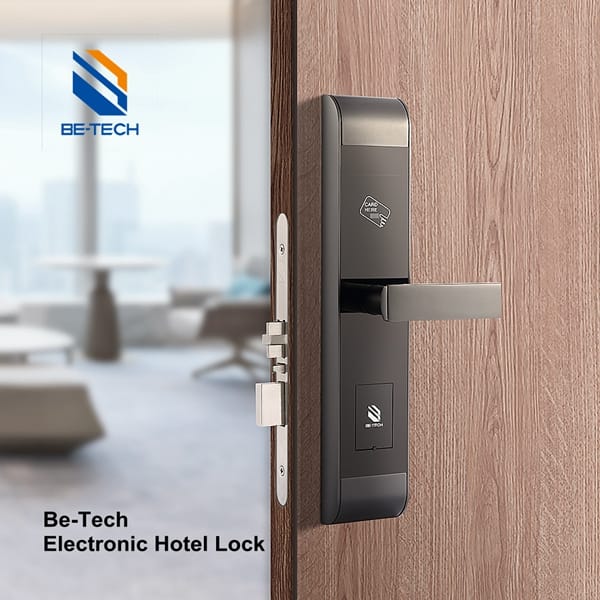 ELECTRONIC HOTEL LOCK – VISUAL II RFID
It is called an electrical hotel door lock and it is from one of their VISUAL II RFID series. It is super simple yet has an expensive fashionable look that goes with contemporary hotel environment and everything in it. The Visual II RFID series is particularly designed to be fit in a fashionable environment and this hotel door lock is perfect. It comes in two colors, one feature full black color while the other feature black and bright silver combination look. The door handle is made with stainless steel body and the mortise lock case is available in ANSI, AUS, and EURO versions, so wherever your hotel is, y ,ou can have these customized hotel door locks.
Let's talk about the specifications of this lock. It has 13.56MHz technology and 1000 event audit trails. This lock is compatible with BISHOTEL software platform and allows 11 free sectors for future All-in-one card application use. There is a 20mm throw of high strength deadbolt, so your hotel door needs to be moderately thick for this one. 3-point stainless steel latch construction with an anti-friction mechanism is pretty great. Not only this, but it also has a future proof re-programmable FLASH RAM lock memory. And for guests with physical disabilities, there is an ADA compliant.
As for panic situations, it has a perfect panic release function where the deadbolt and latch are automatically retracted from the inside handle for easy revert only in an emergency situation. But for a mechanical override, you will have to use high-security mechanical override cylinder because its different than the residential door lock. For the quality, the company had done it all by making it compatible with the ISO standard 14 443 A (MIFARE). The company has put anti-hacker technology and they don't allow re-program FLASH RAM lock memory from outside escutcheon so, it's very safe for guests.