Everything in a day to day life has evolved thanks to technology and companies need to keep up with this to be able to attract and maintain their clients. It's a thing of the past for gyms to use keys for their lockers, as well as in spa places. The better solution is for digital door locks or electronic cabinet locks, this second ones fit better for the places that were just described.
There is a difference between the two products that were just mentioned, even though both of them are related to digital or electronic locks. We say electronic cabinets locks are best for gyms, sauna rooms and in general whatever other public places where temporary storage is needed, even airports' baggage storage might be a part of this list as well.
We say this because of the main functions that can be assigned to this lock. The first function is the shared use. In this task the user is able to select any free locker that is available. Once they choose and occupy a locker this will only be able to be opened with that specific card of the user. Even though the card is not specified for an unique locker, the RDIF card will only be able to be used in one locker at a time.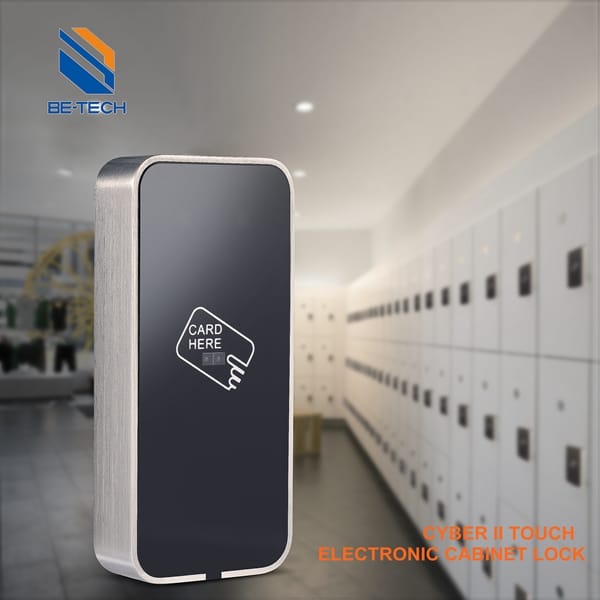 The second function is the assigned use. As the name suggests, the RFID card can only be used with an specific lock. The user can open the same number of locker as the one assigned to them in the card, it can only be used in the specific locker and the guest keycard will only be valid throughout the guest's stay.
This function is a great one that can be put to use with a product of the Be-Tech company. The specific product goes by the name of ELECTRONIC CABINET LOCK – CYBER II RFID (C2800M8). Be-Tech describes this product as offering the latest RFID technology with high security and fashionable design. It is able to provide a new level of security for both shared and assigned use lockers which makes it a lot more convenient for both users and management.
These electronic cabinet locks are made out of stainless steel and come in two different finishes which are silver and matte black, which will definitely be a great combination with any type of decoration already in any room.
Cyber II RFID come with different types of card keys, which represent different levels: the owner key, master key, and the service key.
The locks will need 4 x 1.5 AA Batteries to be able to work and work correctly. The good thing is that the product is able to signal the users when it has low battery, as it will signal through lights when the battery is running low.
Be-Tech is a professional smart lock company from China with more than 28 years of experience in the market and have been able to position themselves as a world-class, high quality producer of security products – with an emphasis on electronic locks and electronic cabinet locks.