Keeping your family safe is extremely important, and you need to find the right ways to achieve that the best way that you can. Which is where the need for a good keyless lock supplier comes into play. A dependable supplier will be able to bring in the support and help you need as fast as possible. The great thing about this system is the fact that you are always getting the results and quality you need. The RF CARD DIGITAL DOOR LOCK WITH ANTI-PANIC I7A6FMTW from Be-Tech stands out of the crowd with its incredible quality and value, as you can see below.
Why do you need a keyless lock for your entrance door?
You never really know who might come at your doorstep. It doesn't feel like a lot in the beginning, but the truth is that anyone can be at your door trying to enter. You need to protect your entire family the best way that you can, and with the keyless locks you can do that in your time. The most important focus is on quality and professionalism, and we always push the boundaries to bring in the ultimate result.
The digital mortise lock is very accurate, you can add any keycode you want and a variety of combinations. That helps eliminate excuses and challenges, and it will just make the process better and more convenient in the end. The unit has a touchpad, mobile key, RF card and fingerprint system from Be-Tech. That really helps immensely, because it brings in front comprehensive solutions and features, and the outcome itself will be great every time. You have amazing features and quality for the money with the I7A6FMTW keyless lock supplier, you just have to give it a try!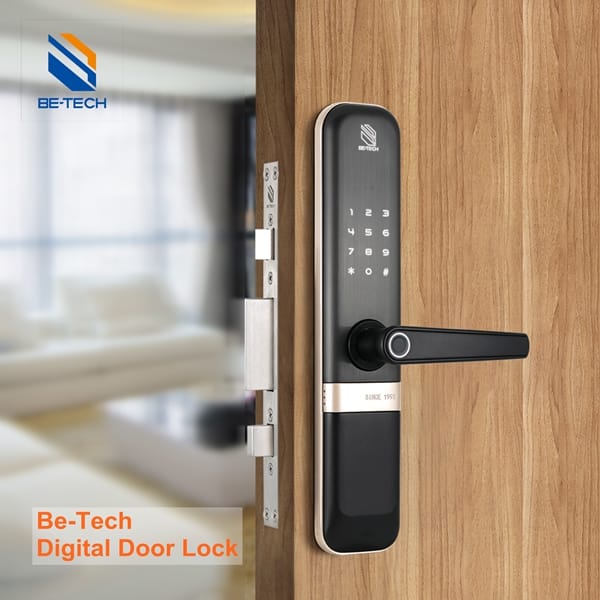 Is this keyless lock durable?
Every keyless lock supplier will tell you that yes, the keyless locks are very durable. And the truth is that yes, they are extremely good and they will help protect your family in a very good way. You just need to make sure that you find the right product to suit your needs. With the right keyless lock supplier, you can do that fast and easy. It totally delivers on the value and quality you want, and in the end it will be well worth the effort every time. That's what you want to pursue in the end, and the PREMIUM RF CARD DIGITAL DOOR LOCK WITH ANTI-PANIC I7A6FMTW certainly delivers on its promise.
Does the product have automatic locking?
Yes, the unit from this keyless lock supplier will have automatic locking. It even has an anti-panic exit system and missing key invalidation. It basically a computerized lock that will make it easy for you to protect your home adequately and in a dependable manner. It just doesn't get any better than this, especially with the I7A6FMTW features.
Conclusion
It's a good idea to work with the Be-Tech keyless lock supplier so you can buy the best keyless lock that you can. This product is very helpful and it will bring in front the best solutions and results as quickly as possible. That can make a massive difference, and in the end it will help push the outcome to new heights. Make sure that you contact the keyless lock supplier and install this type of lock at the entry door in your home. You get the best possible way to protect your home, and it will be well worth it in the end.