Are you looking for an easy to use digital door lock? Well, Be-Tech digital door lock company produced by digital door locks I8A1FMT will be the best.
This digital door lock contains many features that make it outstanding among the digital door locks in the market. This digital door lock is made with a concentration of the best quality and best security measures. In addition to this, it enhances ease of use on authentication on anyone trying to access the family entrance door.
Access Modes from Be-Tech I8A1FMT Digital Door Lock
To ensure ease of inconvenience and to enhance the effectiveness of this Be-Tech digital door lock, there are several access modes provided while using this digital door lock. You can use either of the access modes in the case where you miss one of the access modes.
Additionally, this ensures that the digital door lock will never fail at the point where one access mode becomes faulty. Below are some of the access modes available for this digital door lock.
1. Fingerprint – This is a one-touch fingerprint verification. If the fingerprint verification is successful, then access is allowed. Otherwise, access will be denied. This fingerprint verification technology reads the fingerprint on a one-time.
2. RF Card Key – This is a form of access mode allowed in this Be-tech I8A1FMT digital door lock. The card is passed through a sensor, after which access is allowed.
3. PIN Code Access – The access allowed by this digital door lock is through a PIN code access. All one needs to have is to know the PIN, after which, on inputting the PIN-code on the door lock, it provides the access instantly.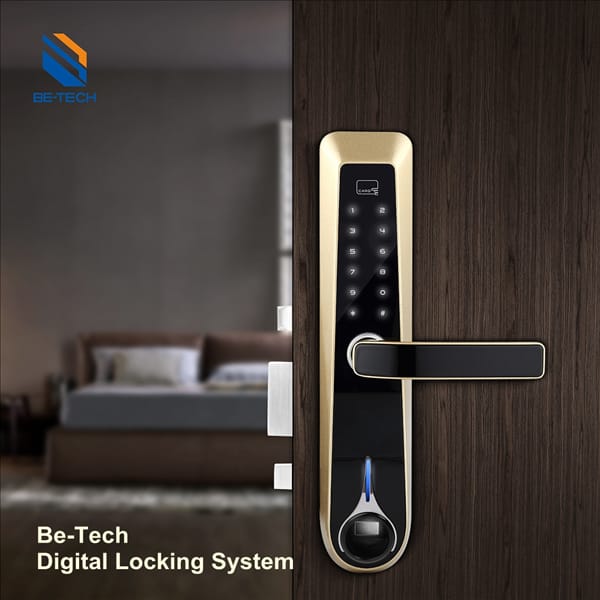 Benefits of Be-Tech I8A1FMT Digital Door Lock
There are many reasons why you should consider using the Be-Tech I8A1FMT digital door lock over the many digital door locks in the market. You will just love the convenience that comes from the use of this amazing digital door lock.
To enhance its convenience, it comes with some of the best features which enable this digital door lock to provide the best security as well as ease of use in the market. Some of its amazing features are as below;
· Automatic Locking – This is one of the best features as you will be sure that the family entrance door is always locked. It will lock its own automatically a few seconds after opening. In addition to this, it also contains a manual operation for convenience on what you need.
· Scamble Code – While using the PIN Code access mode, entering the PIN code in the presence of other people could easily expose it. To prevent this, you can enter random numbers before the right code, which reduces the probability of exposing the PIN code to unauthorized people.
· Operation Status Notification – This digital door lock features a LED indicator that features different colors as well as signs to provide specific notifications. It will light green on successful access. On the other hand, it will light a red color where access is denied due to wrong information provided.
· Alarm – The alarm feature will go on where one attempts to get access using an incorrect RF card key, fingerprint, or wrong PIN code for 5 continuous times. The alarm will last for 60 seconds to ensure that you get notified.
· Anti-panic Exit System – In case of an emergency, the door allows opening through turning its handle from the inside.
· Invisible PIN Keypad – This makes it secure as not everyone knows how to operate this digital door lock. The keypad is only seen on touching the screen using your palm for inputting the PIN code.
Product Specs
· Product Brand Name – "Be-Tech"
· Product Model – I8A1FMT
· Applicable for door thickness ranging from 40mm to 80mm
· Made from durable material of Stainless Steel
· Provides up to 91 groups of fingerprint access
· Provides up to 41 Card keys consisting 1 master key and other 40 user keys
· User codes can go on up to 21 groups