It is not unusual when you, sometimes, lock yourself out of your home or forget to lock the door to your home when in a haste. But thanks to the various selection of electronic locks available, you can consider the days of being locked out or forgetting to lock your door, a thing of the past.
Electronic door locks, which were once held in high esteem as they could be found gracing only the door of multi-million-dollar estates, are now available for a few hundred dollars to provide you the security you require.
When it comes to selecting door locks for the home, most people consider security as the foremost requirement, followed by cost, style, and finishing. Selecting the best door locks for your home varies on if the door is interior or exterior, as each door requires a different locking mechanism. For instance, it would be absurd to install a deadbolt lock on the bathroom door or a push-button privacy lock set at the front entry door.
Let's take a look at some of the popular electronic door locks.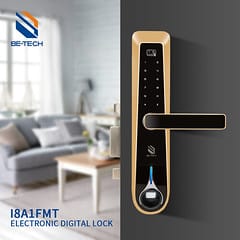 RFID (Radio Frequency Identification) technology apply the key fob or card for entrance.
Biometric technology uses fingerprint identification to unlock the lock. You will be familiar with the fingerprint identification if you have used these features on your smart phone or laptop, therefore, you understand how it works. All you do it to program your fingerprint, and those you want to have access to your home, and the system recognizes the acceptable person to unlock for.
Applying an electronic door lock to your home is a great progress to securing your home and also making your life easier.
If you want to know more about electronic door locks supplier, Be-Tech, don't hesitate to read on about their electronic door locks. Be-Tech developed different functions of the smart lock. The Model I8A1FMT has four access solutions, which are: Fingerprint, RF Card Key or PIN code, and mechanical key for your convenience.
Other features of this model include:
Operation status notification
In case of any operation made (include unauthorized operation), the LED indicator alerts you through the display of different colors and signs.
Scramble Code
The Scramble code allows you can enter random numbers prior to the right code, whenever there is a chance of exposing it to others.
Automatic Locking
The door lock gets locked automatically a few seconds after it is opened. (Manual operation is also available)
Missing key invalidation
If you ever lose your key, there would be no validation as long as you delete the lost one on the lock by it's own ID.
Alarm (Incorrect Fingerprint or RF card or PIN code)
This alarm system remains on for 60seconds each time anyone attempts to open the door lock using an incorrect fingerprint or RF card 5 times.
Low battery indication
You will also receive a continuous "Beep" sound during door access to remind replacing batteries.
After reading this blog, do you want to learn more about related information from Be-techlock? Please follow us and we will update more knowledge for you.