Your hotel front desk reception, guest rooms, and lobby all are responsible for your guests' experience and also add value to your property assets. Besides the aesthetics of your hotel, it's also important to pay attention to your hotel's security and that can best be possible with hotel electronic locks.
Do your guests get frustrated while waiting in line to acquire their room key? Are your hotel door locks a part of your hotel aesthetics? Do you want to give a secure place to live to your guests? Are you looking for the best hotel electronic locks? If the answer to these questions is 'yes' then this article will definitely help you.
Nowadays, much technological advancements have been made in the hotel door lock industry. Now, the guests don't need to carry a key when entering or leaving their hotel room. Contactless keyless entry system allows the hotel guests to bypass the front desk and access their rooms with their magnetic stripe card, RFID card, or mobile device.
For the majority of the hotel owners, updating the hotel door locks is a huge investment, so it's important to find the right lock. To help hotel owners pick up the right hotel electronic locks, we have decided to share with you the popular lock types and the best smart lock supplier. Let's have a look at the major lock types.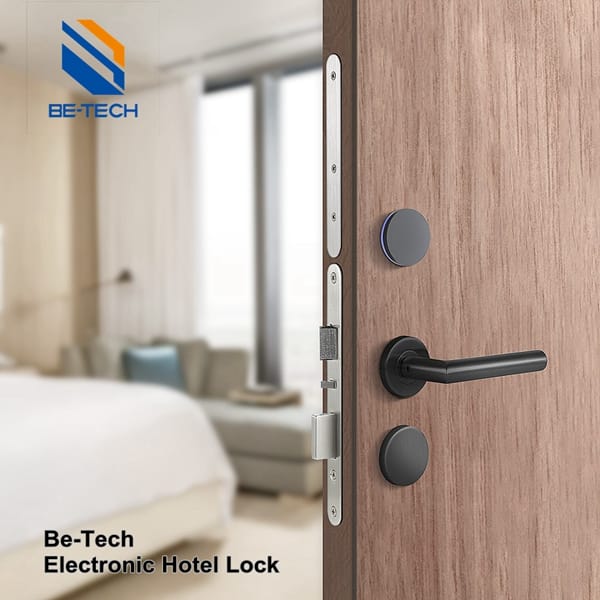 1- Magnetic stripe card
In the 1970s, magnetic keycard technology was introduced. It is a thin, plastic key card that entails a magnetic stripe encoded to access a particular guestroom lock. To unlock the door, the user swipes the magnetic keycard in the magstripe reader that is installed on the guestroom door. The door lock remains open for a few seconds and then closes automatically. This door lock operates with a battery that can last up to 18 months.
2- RFID (Radio Frequency Identification)
Hotel electronic locks with RFID technology was launched in the 2000s. RFID keycards do not require swiping like a magnetic stripe card. It's because the RFID key card uses NXP's MIFARE solution and it can access the lock when placed close to the lock.
Shadow II RFID by Be-Tech is specially manufactured for the hotel industry, which not just improves the guestrooms' security but also beautifies the hotel aesthetics. It is a perfect fit for modern hotels because of its chic design. The entire look of the hotel corridor can greatly be enhanced with Be-Tech Shadow II RFID as it completely matches hotel embellishment. Here are the amazing features of this electronic hotel lock.
Comes with RFID technology
Made with stainless steel handle and mortise lock case
Have a long-lasting painting finish
Mortise is fitted with a 20mm high-strength deadbolt
Comes with a panic release function, it's latch and deadbolt are automatically reversed by the inside handle to provide easy revert in emergency
3-point latch with antifriction system
Powered by 4 AA batteries
BIS Hotel Software Platform compliant
ADA compliant
1000 event audit track
It's Flash RAM lock memory is re-programmable