Be-Tech is a smart lock company that makes a variety of hotel room door locks. They make digital and electronic locks that serve the modern security needs in hotel rooms. Be-Tech was established in 1992 in China. Since their beginning, they have continued their research and development to launch modern locks to keep safe commercial and residential buildings. The smart lock company makes products like electronic hotel locks, electronic hotel safes, smart security systems, electronic digital door locks, and electronic cabinet locks among other things. With the easy access, convenience, and high-quality products, Be-Tech strives to satisfy all of its customers.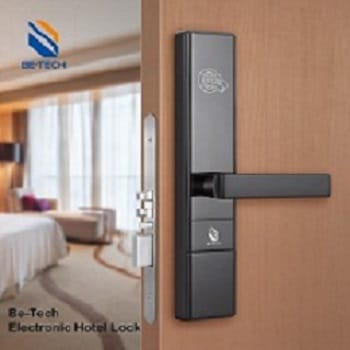 We all can agree that security in hotel rooms is kind of needed in these times. So, having top-notch hotel room locks are really necessary for overall security in a hotel. The thing is, if your guests are not satisfied with security level, they might prefer to stay somewhere else. This will not be good for business, so you need an upgraded security system in which your guests feel comfortable. The electric and digital door locks are getting popular day by day. A smart lock company called Be-Tech has launched a VISUAL III RFID (V5 SERIES) that is very advance. Here we will be looking at one of the hotel room door locks from this series.
ELECTRONIC HOTEL LOCK -VISUAL III RFID (V5 SERIES)
If you are looking for hotel door locks, this electronic lock is as powerful as they come. Without further ado, let's check the details of this hotel door lock.
One of the best features you will see in this VISUAL III RFID (V5 SERIES) lock by Be-Tech is that it comes in simple, sleek and contemporary designs. These are especially designed for modern day hotels where they emphasize having a slim design. The handles are made with aluminum alloy whereas the whole body is made with aluminum alloy, but it features a metallic finish that is matte black. The overall look of these locks is mostly matte black finish, and in some cases, grey. Both shades blend well with any type of interior and give a million-dollar look.
This electronic hotel door lock features RFID technology. It features a high security stainless steel mortise lock case that is available in ANSI, AUS and EURO versions to accommodate hotels in these continents. The required door thickness is 35-80mm. It has a 3-point stainless steel latch construction with an antifriction mechanism and a 20mm high strength deadbolt. In case of panic release, the deadbolt and latch are automatically retracted by the inside handle for easy regress. All the operations are powered by four AA alkaline batteries that can last for 1-year.
This lock is ADA compliant and has a re-programmable FLASH RAM lock memory, which can be used for 1000 events. It is also compatible with the BIS HOTEL software platform. This lock work best between -20°C~80*C: non-condensing environment. The tested temperature by the company falls in between -25°C~70°C. This lock has a supported ISO 14443 A (MIFARE Classic) RFID Standard.