Security is as important today as it's ever been, perhaps more so. Rising regional criminal activity, economic downturn, and the constant threat of natural disaster has people seeking personal accountability over the protection of their valuables. A safe in your hotel is the most effective, practical way of guarding the material belongings that your guests care about and the industry is constantly making improvements to cater to prospecting safe owners. Arguably the most important feature on a safe is the lock. After all, without it, it would simply be a steel chest waiting to be emptied. Safe locks can be incredibly complex, and range in a variety of accessibility.
For a popular safe in hotel, you can look at the electronic lock safe. The locking system gives you access by entering a combination of 6-9 numbers on the keypad. Considering the Be-Tech Harmony electronic safe model, you can feel that the Harmony safe is advanced and economical choice for hotel in-room security, with the leading audit trail technology that makes it easy to manage all safes and check comprehensive reports from time to time.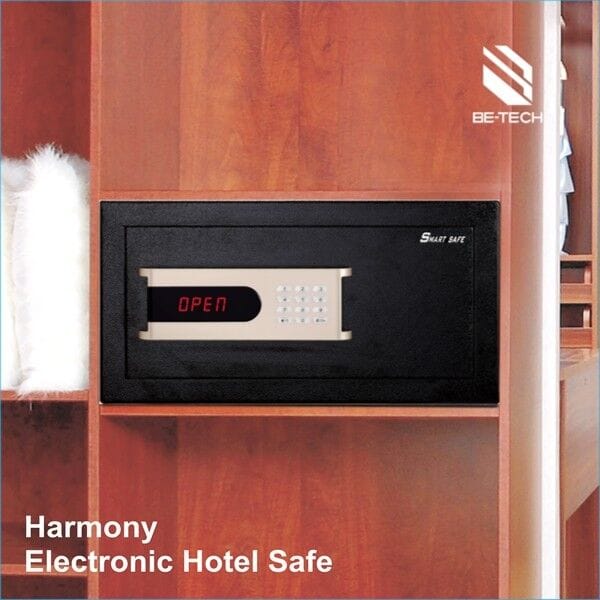 With an industry-leading audit trail system, it helps to trail when it was opened. A 4-9-digit code can be set up to open the electronic safe. These revolutionary locking systems feature a double deadbolt mechanism and door body integrated design for the minimum crack between door and body, The illuminated blue keypad and inner light makes it suitable to use the electronic safe in dark.
Be-Tech harmony electronic lock safe available in various sizes and models just to satisfy different hotels' room styles and customers' unique needs for security and convenience. These are 10HL, 3HL, 5HL. An optional internal power outlet mounted on the inner door is available on Harmony 3HL, and 5HL for guest's convenience. (Universal, EURO, US, and the UK).
It is worthy of mentioning that Be-Tech Harmony series electronic hotel safe has already gained both CE and RoHs certificates. Moreover, with the fashionable design and reasonable price, this Harmony electronic safe is no doubt one of the best-selling products of Be-Tech. It also has been well received by their customers over all over the world. We could say that Be-Tech Harmony series electronic lock safe is the economical choice for most hotels.
As one of the leading electronic lock safe manufacturers in China, Be-Tech could not only provide high quality electronic lock safe products according to customers' specific requirements, but also can offer the whole electronic security solution for hotels. Be-Tech has more than 28 years' experience in manufacturing and exporting in-room security products including digital smart locks and electronic lock safes which makes it a trust-worthy supplier of electronic lock safe for global customers. Don't hesitate to contact Be-Tech's sales team for more information in details about their Harmony series electronic lock safe or get a live quotation.