Management of hotel security is one of the most challenging things you can have. However, with a perfect locking system, you can be able to manage the security of the hotel with less hassle. One of the factors to be considered while getting the locking system in the hotel is through consideration of the number of visitors and people using the premises.
Hotels do have different visitors that might not be con-current. As a result of this, the locking system should accommodate all the visitors with no inconveniences. The Visual II RFID hotel lock features several other advantages which make it the best option to have in your hotel. Convenience and effectiveness is all that is centered in the use of these locking system. Keep reading to know more about this amazing  RFID door lock.
Benefits of Visual II RFID Electronic Hotel Lock
Ergonomic Design – The design used in this RIFD door lock is amazing delivering convenient as well as effective results. This electronic hotel door lock is fashionable, simple as well as comfortable in use brought about by its design.
A Modern RFID Hotel Lock – Design used in this RFID door lock is made to suit fashionable as well as the modern hotels. This design easily blends with different hotel environment that are fashionable.
ADA Compliant – To ensure it provides maximum security, The RFID electronic hotel lock provides a top-notch security through verification process it has undergone making it ADA compliant.
Universal – This RFID hotel lock features several versions which make it universal on use with different versions needed. Some of the versions available for this lockcase is AUS, ANSI and EURO versions.
Adaptability – The use of this hotel locking system will give you ease in adapting to different hotel styles. As a matter of fact, you can be able to choose a variety from the low-cost guest cards, keyfobs, as well as wristbands to match different hotel types may they be businesses, SPA or Resorts.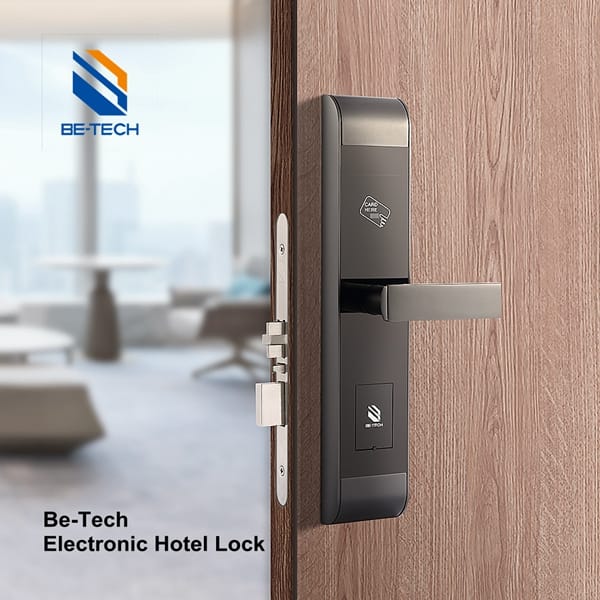 Features
To ensure that it gives you the best this electronic RFID hotel lock contains several features. These features are centered in giving you the best experience to assure that one gets much ease in use yet providing the best protective measure thereof. Below are some of the features from this Visual II RFID electronic hotel door lock;
Features several versions including AUS, ANSI and EURO Versions
Features a panic release function for retracting the lock automatically from the inside handle
Contains a re-programmable Flash RAM lock memory
Powered by use of 4 AA batteries that can last on up to 1 year
An override mechanical cylinder for extra security
Features a mortise that has a deadbolt of high strength that is 20mm
Contains a 3-point latch made from stainless steel material
Product Specs
Compatible with the ISO 14 443 A (MIFARE) Standard
An all-in-one use application for 11 free sectors
Uses 13.56 MHz technology
Stand-alone lock using RFID technology
With such amazing features, this RFID technology electronic door lock makes it to be the best for any hotel set-up. Clients will not have to have hassles in accessing the door as long as they have what it needs to have access. Get this hotel lock to give an amazing security level in your hotel.