Be-Tech was established more than twenty years ago and has since, through hard work, innovation and exceptional customer service, become one of the leading keyless lock providers in China. As a company, Be-Tech specializes in electronic security solutions such as the keyless door lock. Also known as the Fingerprint Digital Door Lock (R665F-00), this modern keyless lock system comes standard with the newest one-touch fingerprint technology to ensure optimal safety and security for your family. Once Installed, you simply have to register the necessary fingerprints on the keyless door lock system, and security is literally at your fingertips.
The system is equipped with an operation status notifier through a LED indicator, that will show you whether the door is locked or not, so you can double check each door in your home without making a sound. This system also comes standard with a low battery warning system, that will ensure you are never caught unaware with a malfunctioning system due to low battery life. The automatic locking feature ensures that the door locks automatically when closed, keeping you safe, even when you fall asleep before checking all the doors. In conclusion, this is an all-out peace of mind security system that modern homes cannot do without.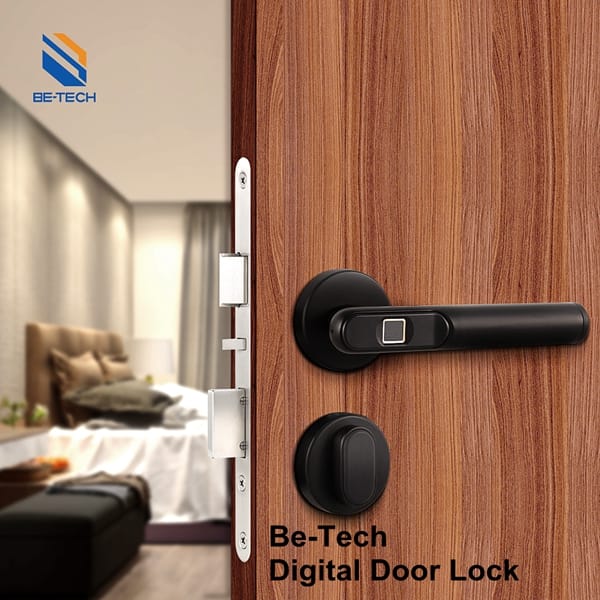 Finally, and most importantly, the anti-panic system allows the door do be opened without verification from the inside,
As an added bonus this keyless lock system is so effortless to install in any standard door, you can do it yourself in no time at all. This means that complete night-time peace of mind and family security is only a click away! Traditional door locking mechanisms are so easy to bypass, or break and when the only key is lost, the whole system needs to be replaced at quite a cost. At Be-Tech, as a leading keyless lock supplier, our commitment to the best keyless door lock system ensures the best indoor security at a very reasonable cost for you and your family.
If you are considering upgrading the security of your home, or resort, there is no better and more affordable option to start with than the Be-Tech keyless lock. This system is perfect for indoor security, such as bedrooms and bathrooms and can easily and quickly be installed so that you are not inconvenienced. More information on the keyless door lock system, as well as our outdoor security features, can be found on our website. Alternatively, you can contact us directly – one of our trained sales personals are standing by to assist you with any questions or with the placing of orders.