The locks and keys on the hotel industry are going through a shift from being strictly mechanical to being electronic. And as time goes by it seems the potential for electronic lock technology is just being discovered. Nowadays hotels used the latest options in the smart card door lock security industry, one of the best products being the RF card door locks.
The RFID hotel door locks were at first developed for the use in cars with remote entry systems, but they have been successfully modified to be used in homes and hotels, becoming an extremely popular option in these fields.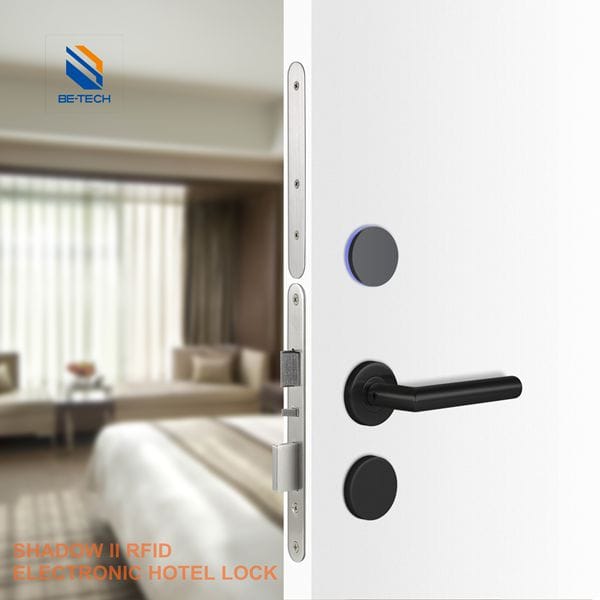 There are a lot of advantages for using a RFID hotel door lock, whether it be in a home or a company, like a hotel. One of the main advantages is not needing to carry a physical key at all times. The mechanical door locks come with the problem that the user has to constantly worry about losing a key and to constantly have to fidget at the door to be able to get it open.
With a physical key, there is always the need to store a spare key somewhere on your property, as many homeowners and hoteliers do. As this is the norm, criminals know that they need to be looking for a spare key.
Another advantage of the RFID card is that they have data tracking. For example, when a person enters a locked room with the card, the system remembers the date and time. This works perfect for housekeeping in a hotel or for dogwalkers in a home, to keep a reliable way of tracking the movements of employees.
The RFID hotel  locks are more durable than a mechanical lock as there are not worn down by the current insertion of a key or damaged by a card slot.
There is even another way to reinforce the security of the place with. The company Be-Tech specializes in being a producer of smart door lock. One of the many products they have in their inventory is a RFID card smart door lock.
In conclusion, the technology in relation of locks for companies is in constant development and the RFID locks are a great example of a reliable smart card door lock for hotel.