The old door locks are mainly composed of keys and keyholes. There is not much of a technical edge in them. They are simple but they aren't secure enough to keep up with the smart commercial door locks. We all know that home security is a major concern for many people. Everybody wants to have a secure door lock on his or her entrance door. A commercial door lock laced with new technology will allow you to lock and unlock a door in a more secure way.  Modern-day commercial door locks have pins included in them that will penetrate in between the lock that are not easy to break. Even if someone tries to break in, these types of door locks are complicated so, it will take some time. In the meantime, your alarms will go off and you can call the security company or police. The commercial door locks are being used on the entrance door of all sorts of houses, apartments, and residences.
Be-Tech is a company that manufactures different sorts of door locks, cabinet locks, and electronic locks. If you are building a new home or an apartment building, you can book your order in bulk and the company will make you customized locks. This way you can have secure entrance locks for your home and your family will be safe even when you are not in town.  Although the company has an extensive range of door locks, here we are going to have a look at one of their commercial door lock with the product Model V3A8MT. Have a look: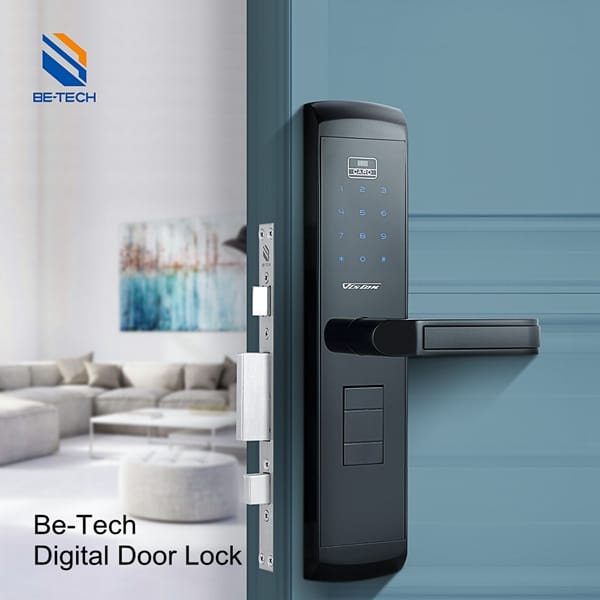 PREMIUM RF CARD DIGITAL DOOR LOCK WITH ANTI-PANIC V3A8MT
It is basically a Digital Mortise Lock that comes with an RF card and touchpad. RF card and touchpad both make it easy for family members to come and go easily by entering just a pin code or RF card. It will be locked after a few seconds of its opening because you never know who would be coming after you. This feature is absolutely safe for those who have a big family, and everyone has their own time of going and coming back.
As for the hardware part, this lock commercial lock features a 60mm Backset GB Lock case. The company offers this lock in two colors. Black and coffee gold. You can choose between these two. Plus, it has a digital touch keypad that shows the digits only when you show your palm. The lock will show the keypad to those who have accessed it through the door. It won't be shown to strangers at all.  Another cool thing about this commercial door lock is that you can instantly make up a PIN code once it is installed. If you forget your PIN somehow, or you can use mechanical key .
It uses batteries to perform different functions in the lock. The red and blue LED lights in the lock are the indicators of the function being performed in it. When batteries are about to finish, the lock will start beeping until you change them.