In the past every year, thousands of China's best foreign trade corporations (enterprises) all over the world, would come China to take part in the spring Canton Fair. Normally, we couldn't go to work and go out for fun. The Government decided to hold the 127th Canton Fair online from 15th to 24th June, 2020.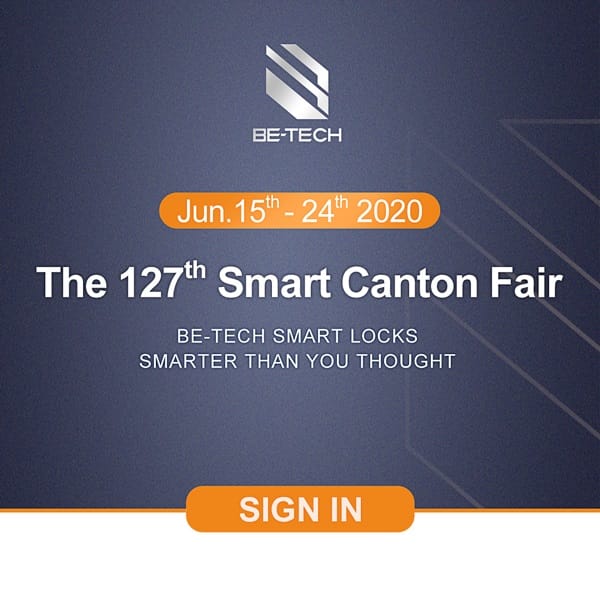 Be-Tech is professional hotel door lock and digital door lock manufacturer for over 28 years, meanwhile online Canton Fair, we will show you traditional and new style of Be-Tech door lock.
Let's move to our new style home smart solution, model number R665F-19B, new designed fingerprint door lock, fingerprint access solution for your convenience, without carry mechanical keys, don't worry to lose keys or forget the password. Fashionable appearance and simple style, whatever you want to refurnish your home, or you would like to make your new home smart and security, it is one of your best choice.R665F-19B used international standard  tubular latch, cylindrical latch is adjustable 60/70mm, it can easily take the place of old lock . Operation and setting can be done by yourself in short time, humanized features:
* One-touch Fingerprint Verification
* Up to 20 Groups (3 Master Fingerprint & 17 User Fingerprints)
* Operation status notification
* Automatic locking
* Anti-panic exit system
* Low battery warning signal
Fingerprint lock is popular more and more nowadays, home, shopping mall, apartments, offices…. Be-Tech is one of professional hotel and fingerprint digital lock manufacturers, we invite you to attend our online live show during Canton online Fair, we will show more products, you can also know more information and communicate with us. We hope you will be one of our valued customer or distributors in the future if you are interested.
Looking forward to you to join with us, you could also know more about us by our official website: www. betechlock.com.