Minimalism is a way of decorating that has taken over most of the world, specially hotels. Less is more is a phrase that more than even is true, because when people go to a hotel they want to relax and not be overwhelmed with decorations. If there is an ornament of bright colors it might not be disturbing but when it has flares or 3d decorations that are too noticeable or people might bump into, that is when the decorator has made a bad job.
Everything in a hotel has to be coherent, simple and modern decorations, from the bed side table to the sink to even the lock in the hotel room. If things are not coherent people will not feel comfortable and might even not return to the hotel, so everything has to be fluid for a good costumer review.
We are going to talk specially about hotel locks, they have evolved to being totally electrical in high class hotels. Technology is a synonym of high class and a high standard hotel so this is something to take in mind for people who are trying to renovate a hotel.
Because this way of thinking is become more popular with the passing of years there are a lot of manufacturers that pop up and sell electric locks online, and they might not be trustworthy but we are going to recommend Be-Tech company which is a Chinese manufacturer with more than 27 years of experience which catalogs them as a world-class, high quality producer of security products – with an emphasis on electronic locks.
We will talk about one of their products by the name of ELECTRONIC HOTEL LOCK – SHADOW II RFID. The way Be-Tech describes this electric door lock series is as being specially designed for hotels that have a desire of presenting an ambiance of fluidity and great interior design. This lock blends perfectly with the necessary hardware of any door and it elevates any design already existing.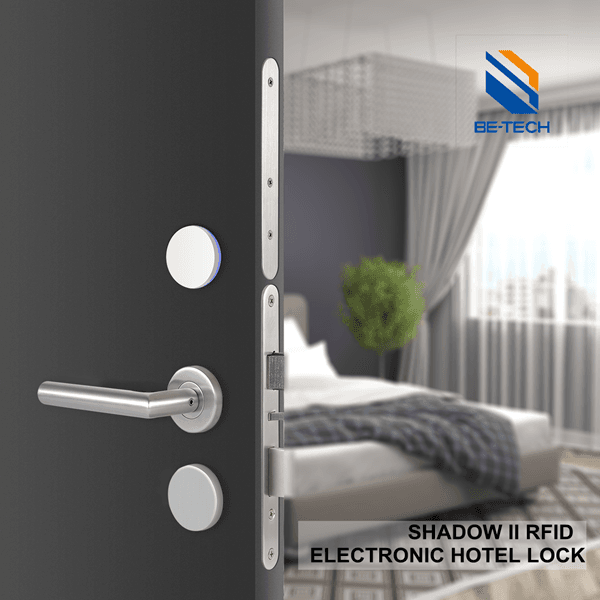 They go into more detail saying how this series is especially suited for those hotels with contemporary and modern environment, as it will enhance the overall image of any corridor they are located in.
Less on door, Always is more. With Be-Tech SHADOW II RFID series, it allows architects and designers maximum design freedom and minimum appearance on door in terms of preserving the door aesthetics.
But let's stop talking about the looks and let's dive into what makes this lock one of the best in the technical field. As the name suggests it has stand-alone electronic lock with RFID technology, which makes it of high security stainless steel mortise lock case available in DIN version.
The quality of this product is noticeable by the materials it was created with, as it is stainless steel handle with long lasting painting finish. This specific product comes in silver and matte black.
It works great in any hotel as it has a panic release function, which is a deadbolt and latch that automatically retract by inside handle for easy regress in emergency situation if that were needed.