A safe and secure door lock is the first line of defense in ensuring the safety of the residence. Looking back to the past time, a simple key and locks are usually the safeguard of the residence. However, these simple design door locks can be easily damaged and instances of invasion increase. Therefore, we, humans are keeping developing the door lock for our safety. Then the electronic deadbolt lock was introduced into the market.
The Benefits of Electronic Dead Bolt Lock
Once the electronic deadbolt lock got an introduction, it becomes the favorite of the market, with its outstanding benefits. Today, the author would list some crucial benefits to illustrate the strength of the electronic deadbolt lot.
 Different from the simple deadbolt locks, the electronic deadbolt locks own the patented digital technology.
 The electronic deadbolt lock is both equipped with a key and electronic locking mechanism.
The electronic deadbolt lock allows to storge the multiple code combination, which could safeguard the building in the high-grade safety system.
The Latest Electronic Dead Bolt Lock
Okay, after understanding the benefits of electronic deadbolt lock, you may wonder about which electronic deadbolt lock should I choose? Today, the author would recommend the latest electronic deadbolt lock, and let you escape from the hesitation of the variety of electronic deadbolt locks.
Be-Tech R8/9/10 keypad deadbolt lock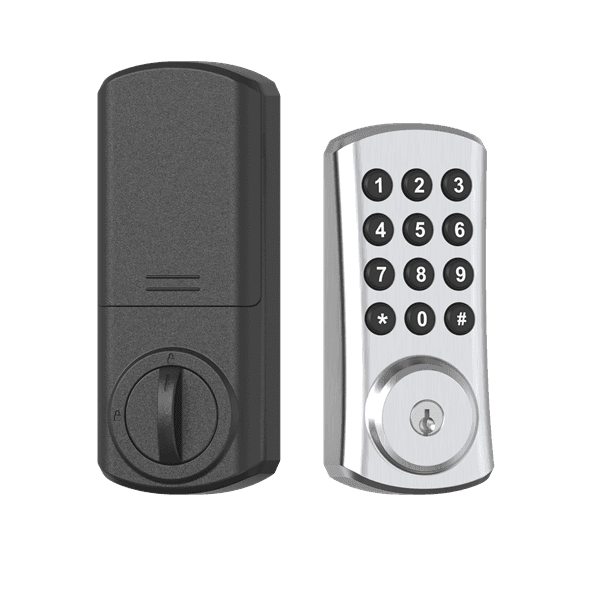 | | |
| --- | --- |
| Main material | Zinc Alloy +Plastic |
| Bolt Type | Deadbolt |
| Handle | No |
| Auto Locking | YES |
| Emergency cylinder | YES |
| Keypad Type | Touchpad or push button |
| Code Length | 6-12 digit |
| Code Quantity | 1 Master code+20 user codes |
As the chart mentioned above, the deadbolt lock adopts zinc alloy and plastic as the main materials. This new deadbolt lock makes a great combination of the benefits of zinc alloy and plastic. The electronic deadbolt lock has an auto-locking function and an emergency cylinder. You don't need to worry too much about the safety issue and the dilemma you may confront in an emergency.
This newly launched deadbolt locks up-grade the existed deadbolt lock system. One-touch locking and 21 user codes storage in this latest deadbolt lock provides users with the keyless accessing method. The backlit design keypad also provides users convenience in the night operation. The lock also can be set to automatically lock after 15s. Furthermore, this deadbolt lock also spares three mechanical keys as the backup plan. Therefore, this electronic deadbolt lock can be regarded as the perfect safety system.
Conclusion
An electronic deadbolt lock is one of the most popular safety door locks in many families. You could put your trust in the deadbolt lock. If you want to purchase other types of electric door locks, you also could find Be-Tech, the international specialist in the door lock field.