The mission at Be-Tech, as a leading commercial door locks supplier and manufacturer in China, is to never leave you wondering whether your office or apartment is completely secure or not. With their advanced technology, you will be granted easy access to your office while keeping anyone who is not authorized to be there outside. They have been providing the best security in over 82countries since 1992, and their commercial door locks are present at many top-grade offices and apartments all over the world. They pride themselves in being trusted with the high quality and security of their commercial locks which protect your office or apartment where you keep important items.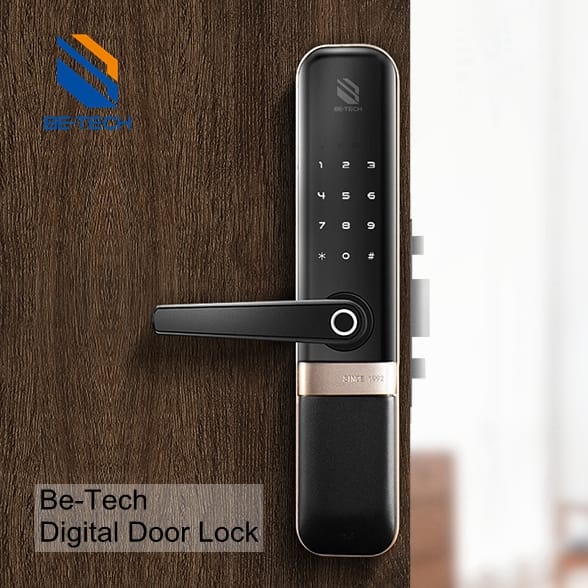 Specialized Digital Locks
With four access solutions including fingerprint, RFID card, touchpad and mobile key, your office or apartment will be armed with a sleek design as well as the best level of security. Be-Tech's commercial door locks feature one-touch fingerprint and RF card identification technology for a fast and easy way to access your space. This digital lock also features a keypad for a shared mode of entry into office which hosts more than one individual. This keypad supports impressive technology and is equipped with a scramble code feature which allows any random combination of numbers to be entered before the correct ones in case the code must be used in front of others. Also, after 5 times of repeated failed entry, an alarm will sound from their system and ward off any unauthorized persons.
What Matters to Be-Tech
Be-Tech's products are always designed to make life easier to their customers. Their main goal is to let their customers to feel both extremely safe and extremely accessible for their offices or apartments. Their office digital lock product is also equipped with a mechanical key which can be set aside for emergencies, so that it will always work to your benefit and satisfaction.
Environment Protection
At Be-Tech, they all know that finding a company to trust with the security of such important spaces like your office can be difficult. That's why they strive to be your best option in more than one way. Excellence does not stop at their product design; it continues into the way they conduct business. They reduce their carbon footprint by limiting production to a level which the environment can sustain. All Be-tech products are developed base on PONY green and ROHS, and they take the responsibility of being a leading commercial door lock supplier very seriously. They are honored to serve their customers in the most environmentally conscious way.
The Best Supplier in the Security Industry
Here at Be-Tech, they want their customers to know how important it is to them that they only make products considered to be the best of all. They have conducted successful business with first-rate companies across the globe. Even after you've purchased their digital lock products, you can count on them for the maintenance of them. They promise to provide reliable and great after-sales service to their customers all over the world.