In this day and age is very important to use technology to ones advantage in order guarantee safety, convenience and peace of mind to homeowners. It is no surprise to anyone that door locks, improve rapidly over the curse of time. The evolving innovative process have ended up in smart locks.
One of the most obvious improvement that this type of technology bring is that they strongly simplify the entering process which converts into more comfort for any homeowner. Here is presented 2 benefits that comes with adopting smart locks to any home.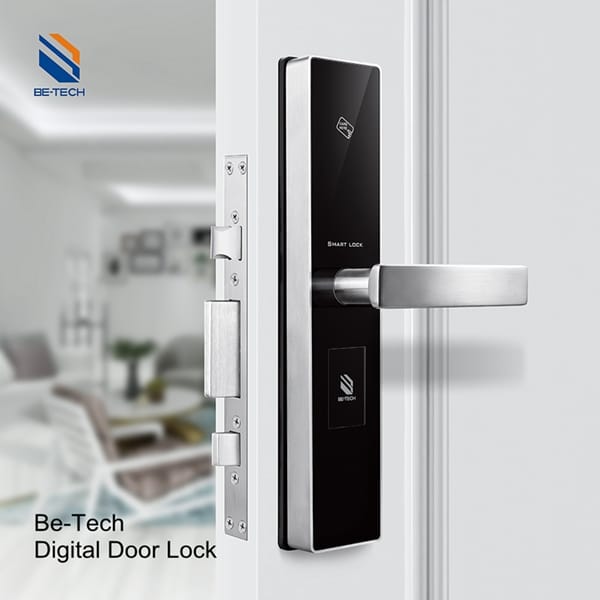 1. Smart locks increase accessibility
The most commonly misplaced item might be considered house keys. So it is more than convenient, to not have to keep track of yet another key. It ensures different ways of authenticating the person who want to enter a home.
2. Smart locks simplify control on protection
This type of user-friendly innovation, helps and allows people to catch up with technology and ease their daily life. For instance, with this locks homeowners are able to easily give certain people access to the entity, giving them the code.
We recommend the company that goes by the name of Be-Tech . They have over 28 years of experience on the market, in which time they have been able to established themselves in China as a world-class, high quality producer of security products – with an emphasis on electronic locks.
In this article we will be continuing detailing their product that goes by the name of RFID card and touchpad digital smart door lock – G8A3MT. This is a Digital Mortise Lock, which as the name suggest it has various access, which are the RF Card or Touchpad that can be access depending what the user desires. It is a 60 Backset GB Lock case which comes in a Silver metal finish.
The handle and lock case are both made out of the highest quality stainless steel. This electronic door lock needs 4×1.5V AA alkaline batteries to be able to normally work. If used 10 times a day the batteries are able to last up to one year, the good thing is that when the batteries run out they can be switched and the lock would go back to normally working. A great feature of the lock is that it has a low battery warning signal which is a continuous "beep" noise that is activated during the door being opened which function is to alert the user to replace the batteries.
Automatic technology might be hard to trust for some people but this Be-Tech product has some mechanical functions that are able to satiate some peoples nerve. For example it has mechanical key override which in case of any emergency the door can be opened with a mechanical key. As well even though there is automatic locking which means that the door lock will be locked automatically after the door being opened for a few seconds, there is also a manual operation available.