The smart lock industry isa very competitive one because there are a lot of options of companies in the market to choose from. As well the smart lock products that are advertised also a very extensive group. But in the mist of all the market being over saturated there are those companies and products that are above all the other and in this article, we will talk about one company in specific.
A great smart lock manufacturer is the one that goes by the name of Be-Tech. They are a professional producer of different types of smart locks and they ship the products all over the world. They are located in China and possess over 27 years of experience in the design of these ingenious and modern products. Their products are perfect to be used in almost every location from apartment to office.
To dive more into this company and their high-quality products we will talk about FINGERPRINT AND RFID CARD AND TOUCHPAD DIGITAL DOOR LOCK – V4A3FMT. This product, as the name suggests, has different ways to be opened, one of them is through fingerprint of the user, another with a RF card key and lastly with a code or password.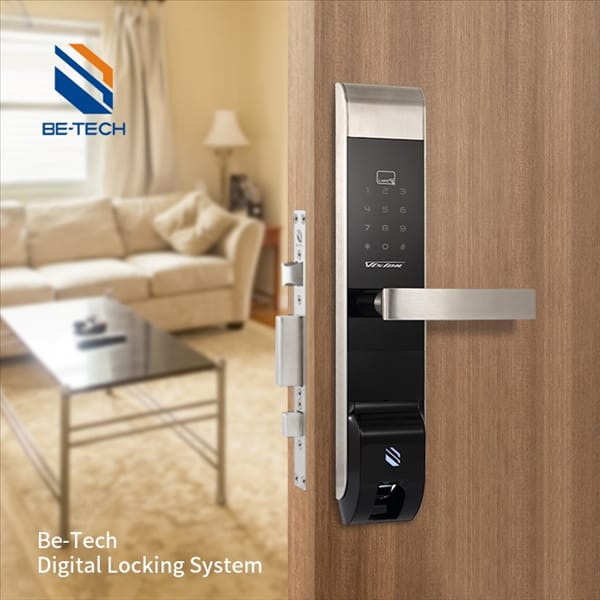 As it´s obvious this is a very versatile smart lock which works perfectly for any apartment or office.Some advantages of this products are the conformability that it would signify tothe apartment owner,as entering a room with this type of lock would be extremely easy because of the different options that it has.
Some of the more visual qualities will be listed below:
It is a Digital Mortise Lock.
As it was explained earlier it has 3 different types of it being opened: Fingerprint, RF Card and Touchpad.
This is a 60mm Backset GB Lock case.
The color finish of this specific lock is silver. But Be-Tech has different other products with diverse colors and finishes.
Other benefits of this product is that it has various features that makes it stand out even more amongst the competition:
It possesses One-touch Fingerprint Verification. This technology has been applied to conveniently read a fingerprint in one try, as the name suggests.
It has operation status notification, which means that whenever any operation is made to the lock, there will be a LED indicator that will inform the user of what is happening through different colors and signs.
Scramble code: the user would be able to enter random numbers prior to the right one in the case of being a chance of exposing it to others.
Automatic locking: this company has a feature that their door locks will be locked automatically after the door being opened for a few seconds. This can also be done by manual operation.
Anti-panic exit system: for a safer feeling for the guests, in any case of an emergency, this door locks allow them to open the door by simply turning its handle from inside.