A great source of income for certain people lays in the rental business of homes and apartments. This is a market that is very successful if the renters put on the market an apartment that is well equipped and modern. In this day and age people will most likely only rent an apartment that looks and feels homey but is equipped with top notch security facilities.
For example, one thing that renters are looking for is for a reliable door lock. This is why any digital door lock company needs to find buyers and people interested that are looking for beautiful door locks that are reliable.
A good company is the one by the name of Be-Tech. They specialize in theR&D and producting on digital door locks like the one that can be found on their website under the name fingerprint and rfid card and touchpad digital door lock – i7a6fmtw.
In this article we will describe this product in detail, from its description, to some features and some specifications of the product.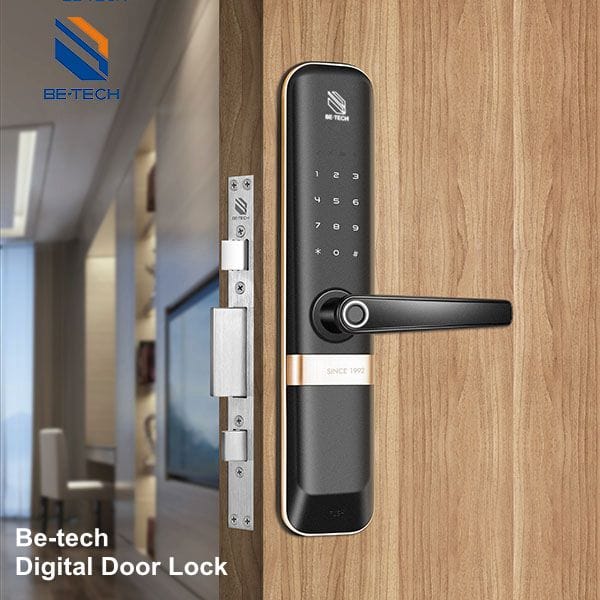 This is considered a Digital Mortise Lock, which like the name of the product suggests it´s able to be used in different ways because it can be opened through Fingerprint, RF Card or Touchpad etc. This specific model has a Matt Gold finish, but if this were not the color desired there are more products in Be-Tech´s catalog that might better fit the requirements of any client.
In regards to some of its features, the most impressive one was the one mentioned before, the fact that the Be-Tech i7 lock has five different access solutions:Mobile key, Fingerprint, RF Card key, PIN code and Mechanical key. This is great as the renter can decide which way to open the lock according to its commodity. The option for a mechanical key is great because in the case of any emergency, it can also be used and the door lock be unlocked.
Fingerprint technology can be bothersome sometimes but this product possess One-touch Fingerprint Verification. This technology can conveniently read a fingerprint in one shot.
This lock also has automatic locking, which means that the door lock will be locked automatically after the door is opened for a few seconds. This would also happen in during a manual operation. The option for it to be manually locked is also available if the user prefers to do it by themselves.
In case of any emergency and for convenience, this and all the locks of this company possess an Anti-panic exit system. This allows the renter to open the door by simply turning its handle from the inside. For an increased safety measure the locks possess an alarm, which is activated when the lock is attempted to be opened with an Incorrect Fingerprint, RF Card or PIN code more than 5 times. The alarm will be on and last for 60 seconds.
So with all this features it´s an easy choice to buy this product or any from the company to equip and make the perfect apartment for renters.