Multifamily housing is a robust and growing market for installing security contractors to approach in terms of access control. However, the uniqueness of such facilities raises a few considerations that are atypical to other markets.
Not just limited to housing multiple families, many properties fall into mixed-use categories by accommodating multiple types of industry, such as light commercial, retail and hospitality. And not all residential spaces are strictly residential because of common areas such as pools, fitness centers, lounges and community gardens.
So, the overriding question to ponder is what issues are building owners experiencing that installing security contractors can help solve? Let's delve into below key area.
Simplify door security solutions – One priority is finding ways to minimize touchpoints. Today these often come in terms of data entry into different systems for credentialing. It isn't uncommon for building management in these environments to suffer from needing to update different systems for commercial locks, residential locks, and gate systems.
The simple fix is to move to one system. The ongoing management systems available today can integrate all types of locks in a building (or even across multiple buildings), and they can be implemented in a way that utilizes a cloud environment so that facility managers don't always need to be onsite to manage access control.
For dense urban areas, this is increasingly valuable as management companies with multiple buildings can manage access control from a single location, further reducing the cost on workforce overhead.
Be-Tech solution about Multifamily Housing (rental condominiums)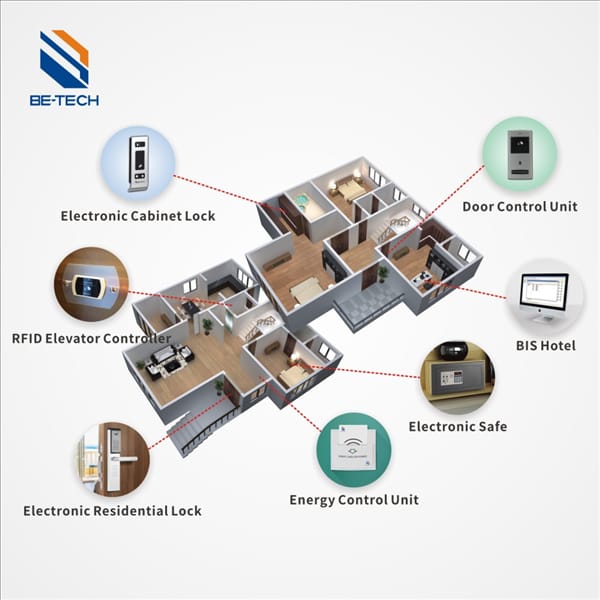 ELECTRONIC DIGITAL LOCKS:
• Various access
Be-Tech G536FK has two access solutions, Fingerprint or PIN code for your convenience.
• Fingerprint Verification
Fingerprint verification technology has been applied to conveniently read a fingerprint in one shot.
• Fake PIN code
You can make an instant PIN code for security.
• Operation status notification
whenever any operation is made, the LED indicator informs you what is happening through different colors and signs.
• Automatic locking
Door lock will be locked automatically after opening door a few seconds (Manual operation is also available)
• Anti-panic exit system
For convenience and in case of emergency, it allows you to open the door by simply turning its handle from inside.
• Alarm (Incorrect Fingerprint or PIN code attempt)
Alarm will be on and lasts for 60 seconds if anyone attempts to open the with incorrect Fingerprint or PIN code for 3 times.
• Low battery warning signal
A continuous "beep" sound during door access will alert you to replace batteries.
• Mechanical key override
For emergency, it can also be unlocked with a mechanical key.
RFID elevator controller:
Be-Tech's RFID Elevator Controller is designed to fit into elevator panels and operated off line, it fully compatible with BIS Hotel, and will enhance the security level for the hotel, as only guest with valid keycard will have authority to the elevators.
Electronic cabinet lock:
• Be-Tech Cyber RFID Cabinet lock provides high security and comfort for locker and cabinet using proximity RFID carrier (RFID keycards, wristband, key fob, etc…) instead of uncomfortable mechanical keys that require expensive maintenance.
Door control unit:
The Be-Tech Door Control Unit is the perfect solution to provide access control on common doors, such as parking barriers, health centers, gym room, conference room, staff entrances, guest night entrances and more, our Door Control Unit is fully compatible with Be-Tech electronic locking systems and provides better guest experience for your rental condominiums.
Energy control unit:
Be-Tech offers a full range of Multifamily Housing accessories, and Energy Control Unit is included, this is the prefect solution to provide convenience to your guests and saving energy and money when guests are not in room.
Compatible with the same Be-Tech room keycard, and intelligent to differentiate different room guest keycards, so as to limit the use of air conditioning and other electrical equipment in the room only to right room number guest.